Help Chambers of Commerce while generating warm leads for your business.
What it is
This giveaway will specifically target Chambers of Commerce & their staff. Your giveaway or freebie must specifically be geared towards this audience. There is no charge to contribute or get the freebies.
A maximum of 12 items/contributors will be provided in the giveaway. I've chosen to limit this to avoid overwhelming our collective new subscribers.
The 12 giveaway items will be listed on one collective page on this website with a link to your landing page.
Here's what one listing might look like: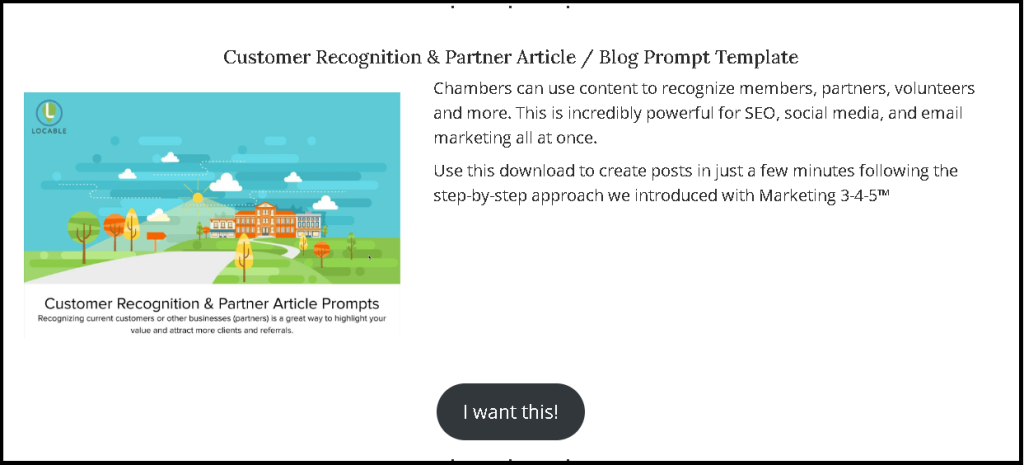 Chamber pros will be able to choose to click through on just the freebies they want. The buttons will link out to your landing page. That means you get to collect the lead information for the people directly interested in what you're giving away.
To create a sense of urgency, the giveaway will only last 1 week during Chamber of Commerce Week, starting:
Sept. 10, 2023
How to Contribute
Apply to submit your lead magnet as one of the chamber-focused freebies promoted in the giveaway. Yes, you can use one of your existing lead magnets.
Your freebie / lead magnet must be aimed at Chambers of Commerce specifically, and must be something that they can almost immediately have or consume. An example of this is informational PDF, on demand training, etc. They should not have to spend money or follow up in anyway to get the free thing from you. You can later pitch them on a relationship or your next step in your email funnel. After all, that's why you're collecting contact information!
There is no fee to participate. However, if accepted, you must agree to promote the giveaway to your audience. There aren't any specific requirements on sharing the giveaway with your audience – the details are up to you.
To do:
Set up your desired lead magnet on your website/landing page creator, and inside your email marketing provider (tutorial below)
Come back to this page & apply as a contributor
Promote the giveaway at least once during the promotion dates
Follow up with your leads!
As I said, we will be limiting the giveaway to 12 or less different items, preferably all from different contributors. Therefore you will need to apply & share the details of your freebie / lead magnet. This is to allow me to pick 12 different products so there aren't duplicates. You are welcome to apply twice to give 2 different possible freebies.
Make the Most of Your Contribution
To participate, one of the things you will need to provide is a landing page to your lead magnet / freebie.
It's up to you if you want to use an existing landing page – or create something unique to the giveaway. You could also create a new group/tag/list in your email marketing provider to do track sources.
The most important thing is you will need to ensure your free thing is immediately provided upon them filling out your contact form.
If you don't yet have a lead magnet, here's how you can create one:
To take it further, you're providing this freebie or lead magnet so you can collect their contact information. If you haven't already, I recommend creating an automated welcome email series or sales funnel or drip series. Plan follow-up emails that further your relationship & on-board them for what you want them to do next with you.
Relevant:
Deadline to Apply: Aug. 10, 2023
Note: you will need to login with a Google account so you can upload a logo or image. I will contact you using the email your provide/type – not necessarily the google address.
If you have any questions, suggestions, or supplemental information you can email izzy@chambergiveaway.com.